Linux Format 167 On Sale Today - Mighty Mint!
Posted at 11:51am on Friday January 4th 2013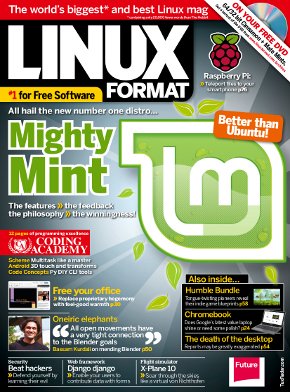 It's a Minty-licious issue as we take a look at the leader of the Distrowatch charts, and ask how it came to be what it is today.

Linux Mint has redefined what it means to be a modern, sleek operating system and it's not even six years old. In recent years it's gained popularity by standing firm in the face of desktop change, but it's about much more than just an applications menu.
Also in the magazine we also check out the great games in the Humble Indie Bundle, ask what the best office suite is, play with the new ChromeBook, wonder if the desktop really is dead, chat with Bassam Kurdali and much, much more.
On the DVD
: We're sticking with the minty theme with 32 and 64 bit versions, but we've also included Manjaro and Precise Puppy. We hope you like it!
For a complete issue overview, and subscriber PDFs, take a look at our archives: http://www.linuxformat.com/archives?issue=167
Digital Editions: Linux Format is available on both Apple's iPhone/iPad/Touch and Android devices through Google Magazines or Zinio. You can also purchase individual copies from the Ubuntu Software Centre.
You should follow us on Identi.ca or Twitter