Linux Format 168 On Sale Today - Linux vs Windows 8: The verdict
Posted at 10:22am on Friday February 1st 2013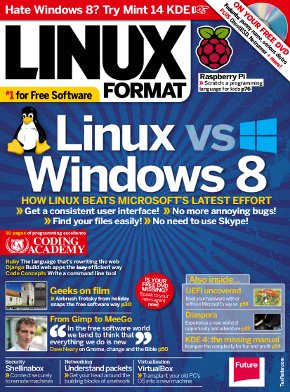 Microsoft has been alienating its users by making pointless user interface changes, dropping support for its instant messenger app and not providing software that will play a DVD.
We can either: a) Point and laugh like Nelson the bully from The Simpsons; or b) show the poor, huddled masses of Windows users that there is a better way. Or, if you don't use Windows and don't know anybody who does, you can simply marvel at how much better off you are because you use Linux, and congratulate yourself on your sound judgement.
Also in the magazine! There's coding a-plenty, with an introduction to Ruby, a beginner's tutorial on Scratch and the latest installment of our Django series. You can assuage your fears over UEFI, wrange KDE 4 to your personal preference with our missing manual, write your own command-line tool, discover the best photo editor for Linux and find out why free software developers should learn from the Bible.
Plus - on the awesome DVD: Mint 14 KDE, Fuduntu, GhostBSD, Netrunner + tons more!
All this and more, in Linux Format 168 – the super-middleweight issue!
For a complete issue overview, and subscriber PDFs, take a look at our archives: http://www.linuxformat.com/archives?issue=168
Digital Editions: Linux Format is now available on Android and Chrome with Google Play Magazines, from just £3.99 per issue. It's also available on both Apple's iPhone/iPad/Touch and Android devices through Zinio. You can also purchase individual copies from the Ubuntu Software Centre.
You should follow us on Identi.ca or Twitter