Linux Format 169 On Sale Today - What is Linux?
Posted at 11:16am on Friday March 1st 2013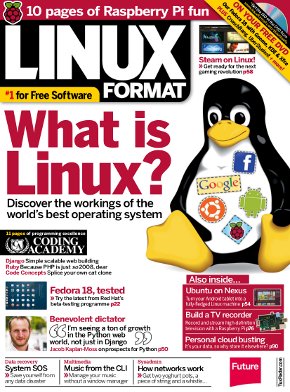 What is Linux? We asked the question, and sent our reporter down into the depths of the OS to find out the answer.
But we didn't stop there. We got a full Ubuntu system running on a Nexus 7, played games on Steam and chatted with Jacon Kaplan-Moss. As usual, we've got some great ways to spruce up your Linux system with tutorials ranging from building a smart TV with a Raspberry Pi to command-line music management.
Programmers can delight in Django or revel in Ruby in our coding academy. Plus: System administration, build a router, Fedora 18 tested and much more.
Double plus - on the awesome DVD: Fedora 18, CrunchBang!, UberStudent, code from the magazine and the LXF bookshelf.
All this and more, in Linux Format 169 – the 'What is Linux really?' issue!
For a complete issue overview, and subscriber PDFs, take a look at our archives: http://www.linuxformat.com/archives?issue=169
Digital Editions: Linux Format is now available on Android and Chrome with Google Play Magazines, from just £3.99 per issue. It's also available on both Apple's iPhone/iPad/Touch and Android devices through Zinio. You can also purchase individual copies from the Ubuntu Software Centre.
You should follow us on Identi.ca or Twitter