Linux Format issue 146 is on sale now!
Posted at 3:29pm on Thursday May 26th 2011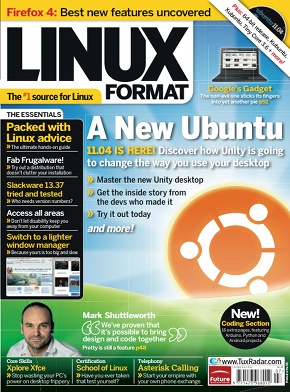 A new Ubuntu release always generates a certain amount of chatter in Linuxland, but nothing compares to the impact of Ubuntu 11.04. This signals a new direction for Canonical, with the familiar Gnome 2.x desktop being replaced by Unity, which significantly alters how we interact with our computers. In our cover feature we show you how to master Unity, we talk to the developers behind the desktop, and also probe Mark Shuttleworth for his thoughts too.
Meanwhile, we examine the state of accessibility software on Linux, take the Google Cr-48 laptop for a spin, and show you 19 ways how you can contribute to the open source/free software movement. In our reviews section we look at Epiphany 3.0, Slackware 13.37 and Zorin OS4, while in tutorials you can learn about Xfce, Firefox 4, Frugalware and Asterisk.
And don't miss the 4GB DVD: it's an LXF exclusive triple-booting disc with Ubuntu (including loads of extra packages), Kubuntu and Xubuntu all rolled into one. We also have lightweight window managers from our roundup, games, podcasts and much more to explore.
View the full contents list here. LXF146 is on sale at all good UK newsagents (overseas in the next few weeks), or you can buy a copy online. Even better, get every issue straight to your door at a great price by subscribing!
You should follow us on Identi.ca or Twitter