Linux Format issue 147 is on sale now!
Posted at 4:04pm on Saturday June 25th 2011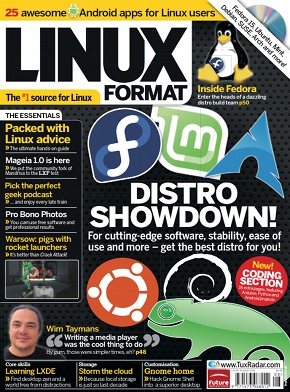 We all need a change of scenery now and then, so how about a change of distro? With so much rapid innovation going on in the Linux world, distros are constantly edging ahead of one another in areas such as performance stability and ease-of-use. In this month's cover feature we throw six of the best distros into a pit and let them battle it out for supremacy. Who's the winner? You may very well be surprised...
We've backed this up by putting all six of the distros on a special 8GB, double-sided DVD. On one side we have the full version of Fedora 15 with almost 3,000 packages - everything you need for a powerful Linux desktop, development workstation or server. Plus we have games, tutorials, podcasts and much more.
Also in the magazine: check out our review of Mageia 1.0, the community spin-off of Mandriva. We look at how the Fedora distro grows from a bunch of ideas into a fully installable release, examine the best Android apps, and have tutorials on lightweight distros, pro photography, cloud file sharing, Gnome 3 tweaking and more.
View the full contents list here. LXF147 is on sale at all good UK newsagents (overseas in the next few weeks), or you can buy a copy online. Even better, get every issue straight to your door at a great price by subscribing!
You should follow us on Identi.ca or Twitter